Privacy DIVE
Your personal data cockpit
Privacy DIVE is our software designed to offer valid support in complying with obligations introduced by EU Regulation on personal data protection (GDPR) to both public and private organisations. Privacy DIVE is available on the Cloud, offered with a Software as a Service model, and in a variety of languages (e.g., English, French, Italian).
Through a step-by-step procedure, the user is guided to complete the following requirements:
Identify all the personal data processed and fulfill the "Record of processing activities";
Select the (technical and organisational) countermeasures to lower risks;
Manage all the privacy documentation and potential Data Breaches communications.
By leveraging Privacy DIVE, organisations will also be able to safeguard their employees' privacy in the smart and remote working era and in anticipation of future disruptive events.
Record of processing activities
Our main module enables organisations to create a centralised inventory of processing activities, for which the Data Controller is accountable, and keep it up to date and aligned with new data processed.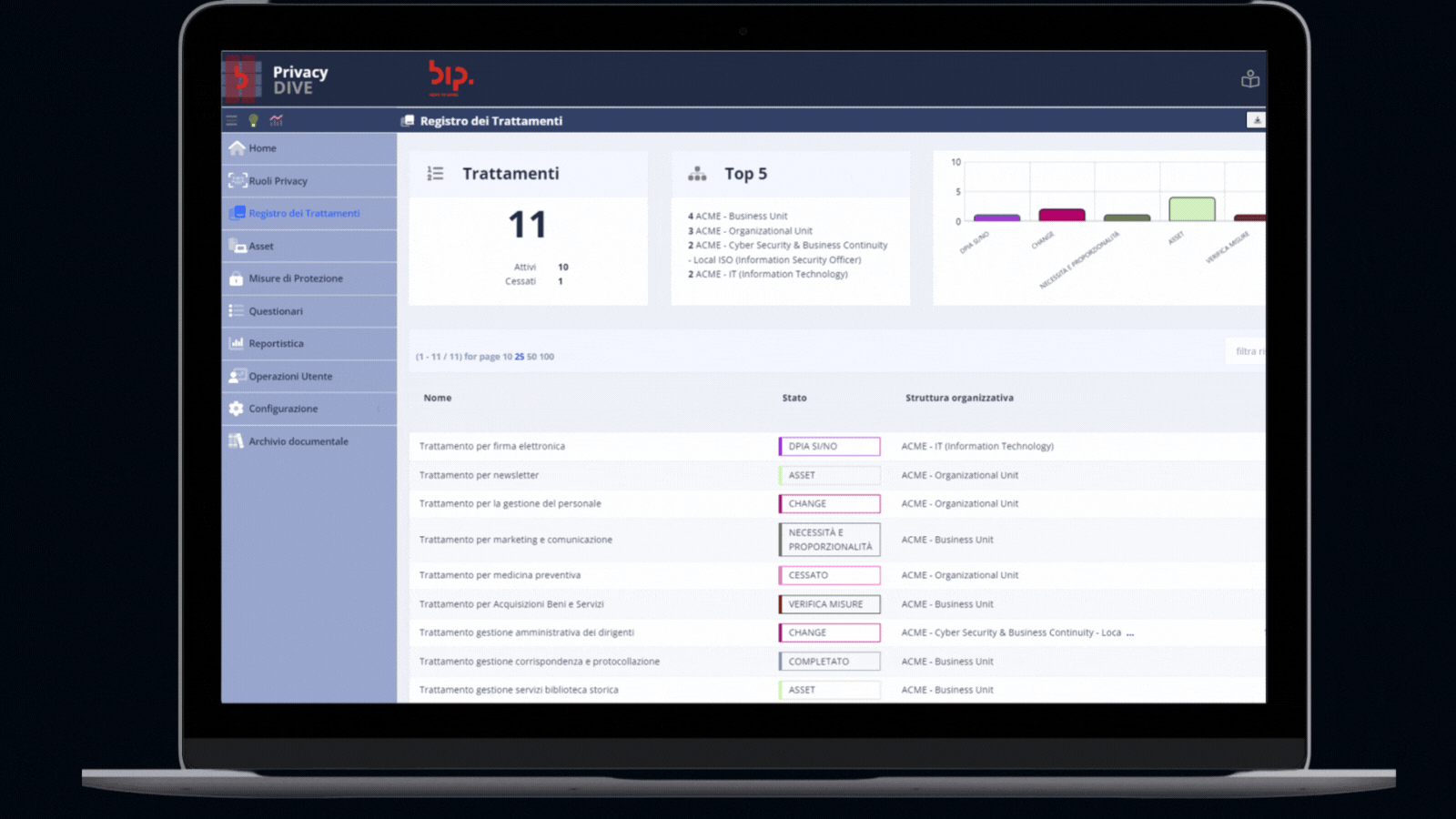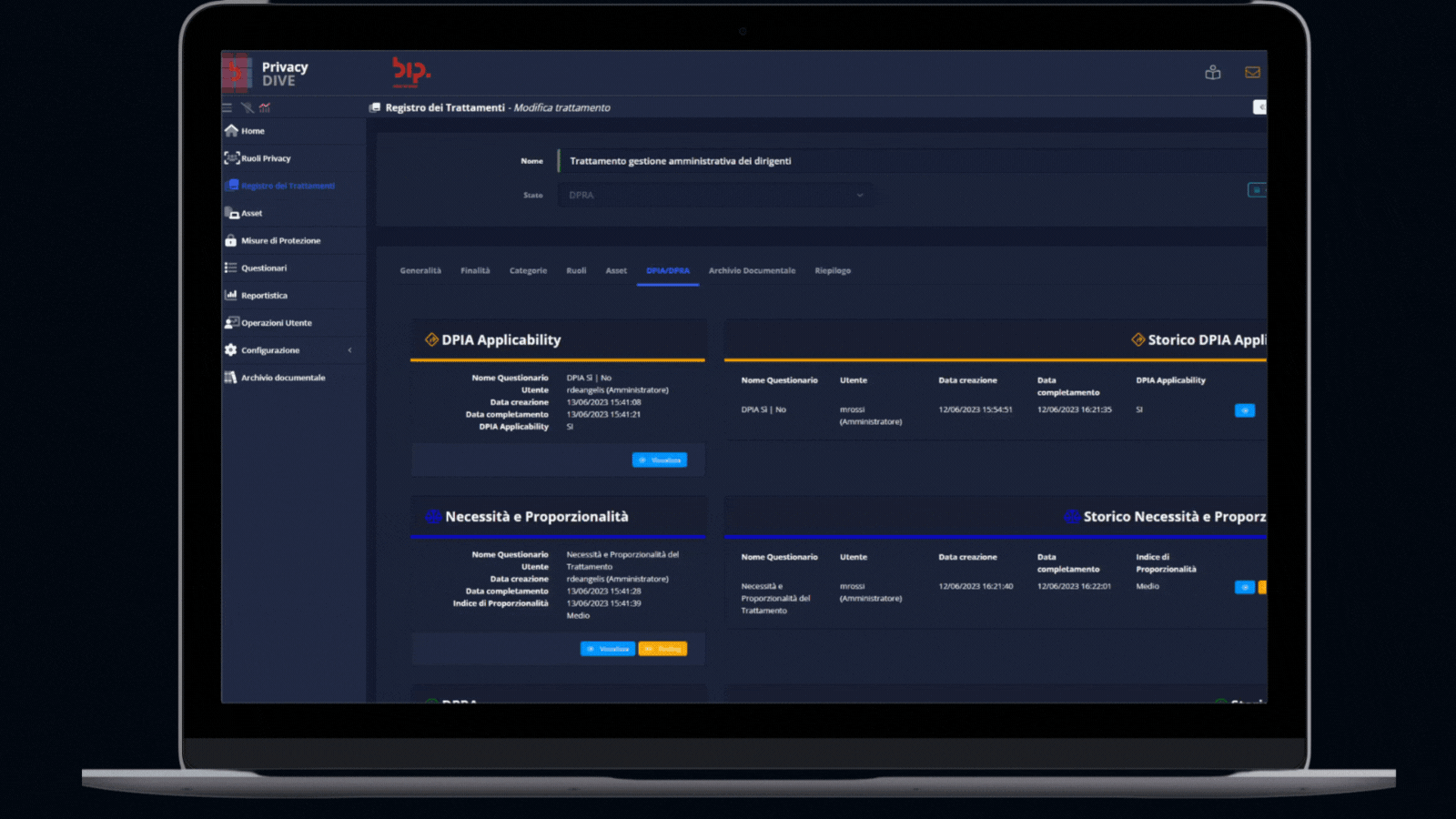 Selection of security measures and risks mitigation plan
This extended module includes:
DPIA: Checklist gathered from best-practices to perform a Data Protection Impact Assessment.
DPRA: Methodology for the evaluation of the freedom and rights of the data subject, beyond the risk likelihood and potential impact.
Gap Analysis between inherent risks and organizational/technical countermeasures implemented on every asset.
Document Management Module
Drafting and storaging of privacy documentation
This extended module allows to create and manage all the privacy documentation related to the activities processed (e.g., consent, processor engagement) or other regulation requirements (e.g., communications to DPO or Supervisory Authorities).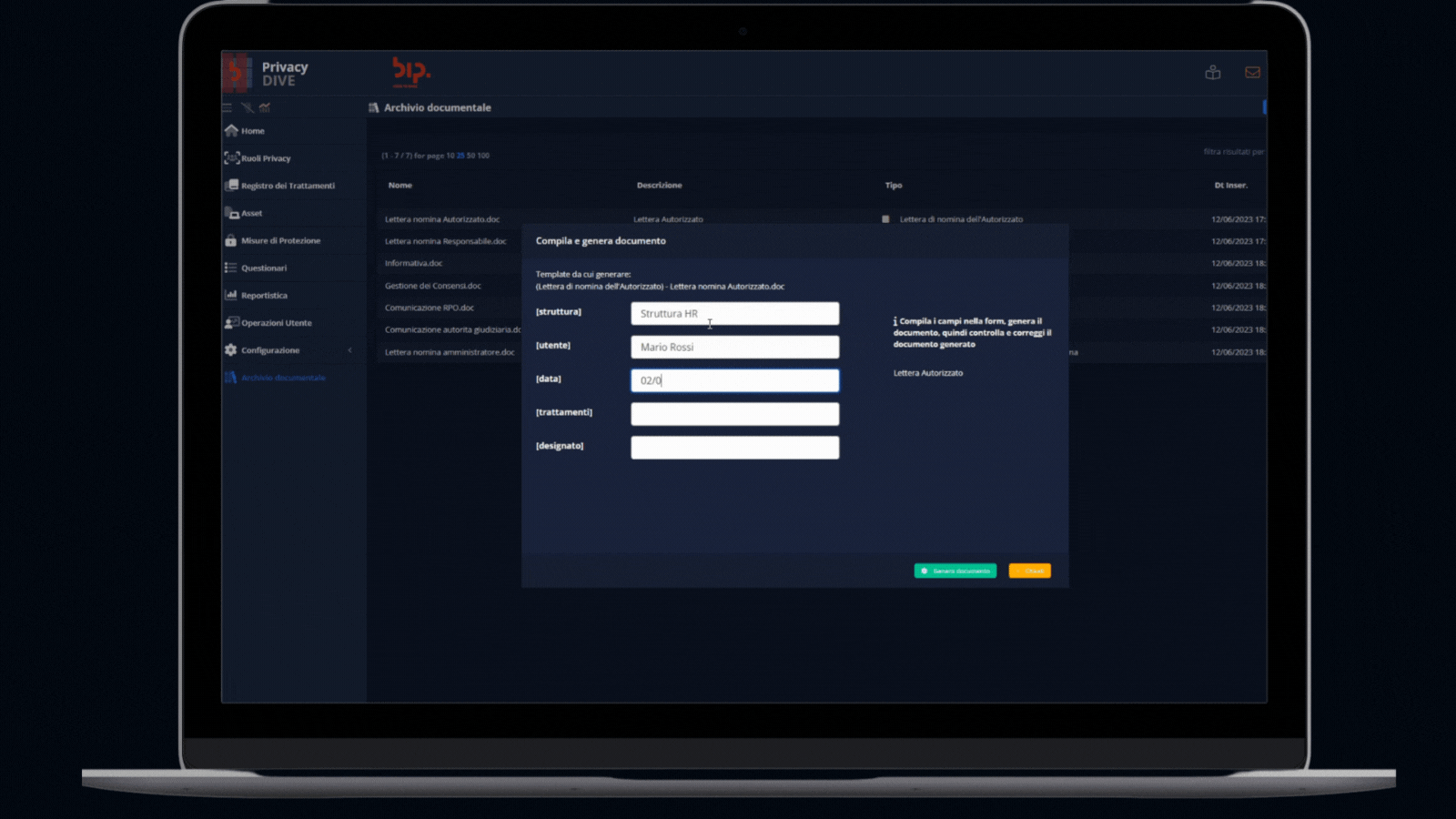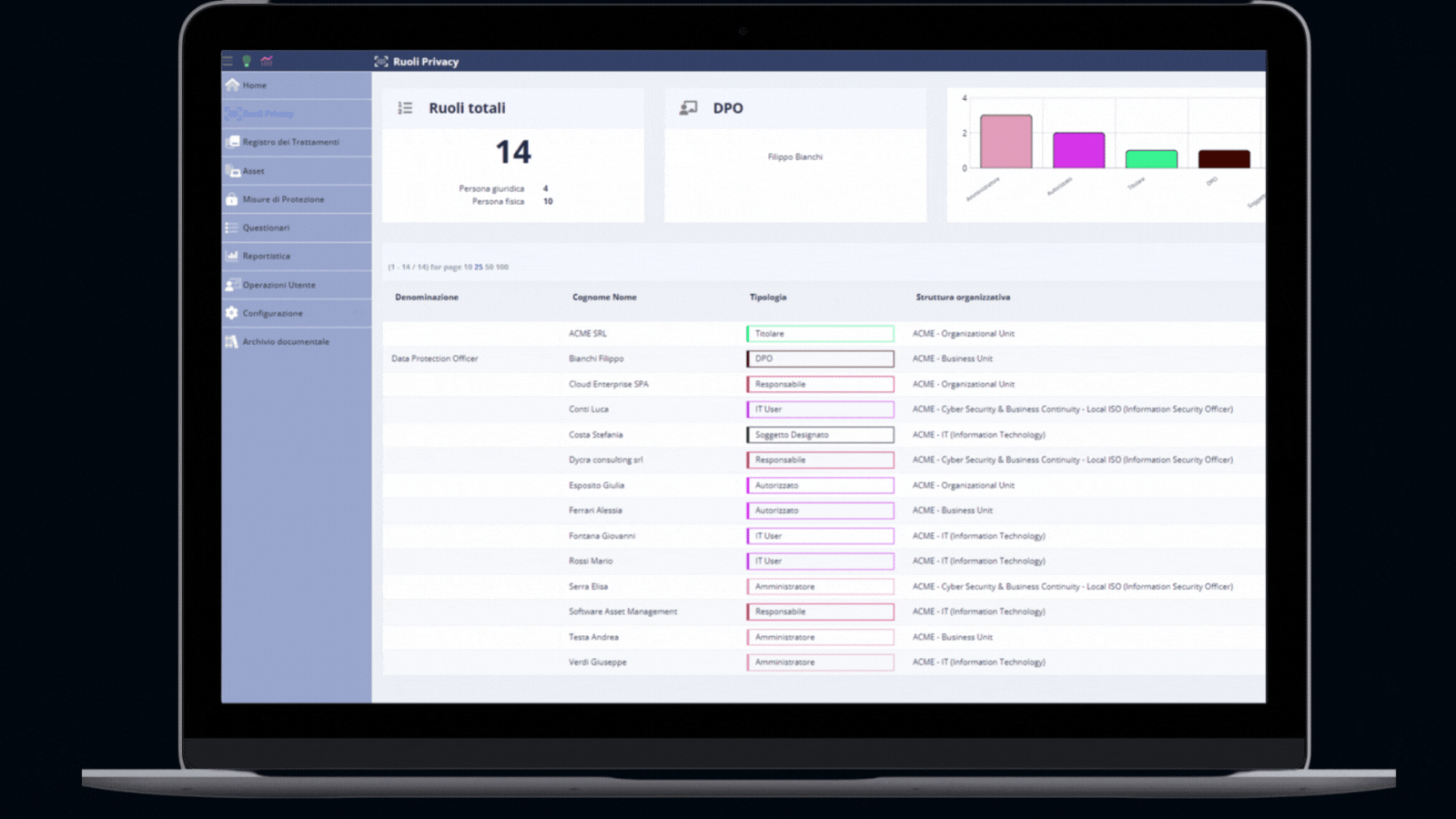 Simplify your user management tool
Our user information management form comes equipped with registration, access, and profile management features, all presented through an intuitive interface. Our platform provides efficient user management solutions through activity monitoring, report generation, and automated administrative processes. Our service provides seamless integration with Azure AD to ensure smooth authentication and authorization processes for your organization.
Getting a comprehensive view of the activities
This module supports advanced data analysis features, including graphs and statistics, for a comprehensive view of the activities recorded on the platform. It provides companies with comprehensive insights into their privacy compliance activities, enabling them to make informed decisions.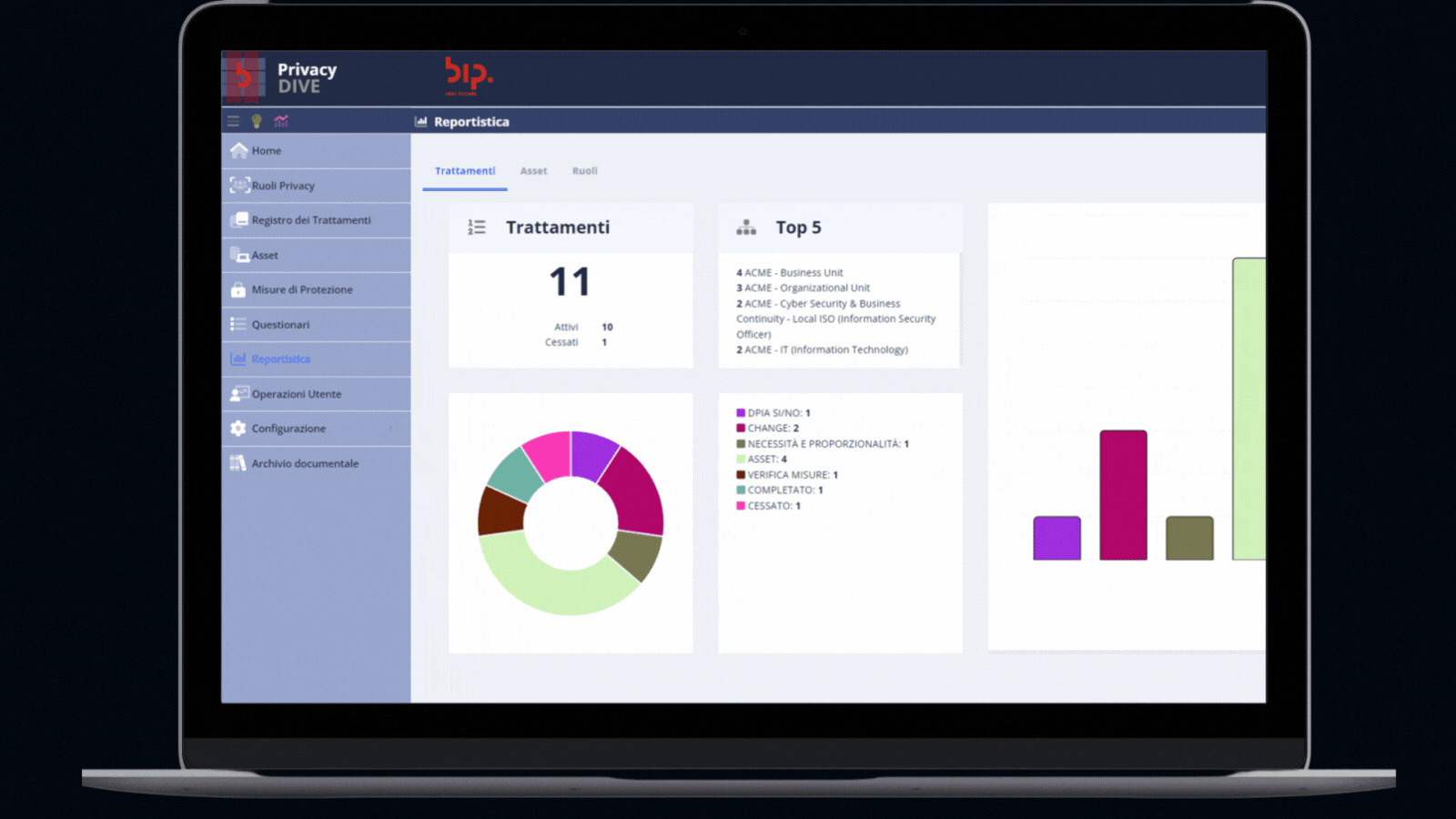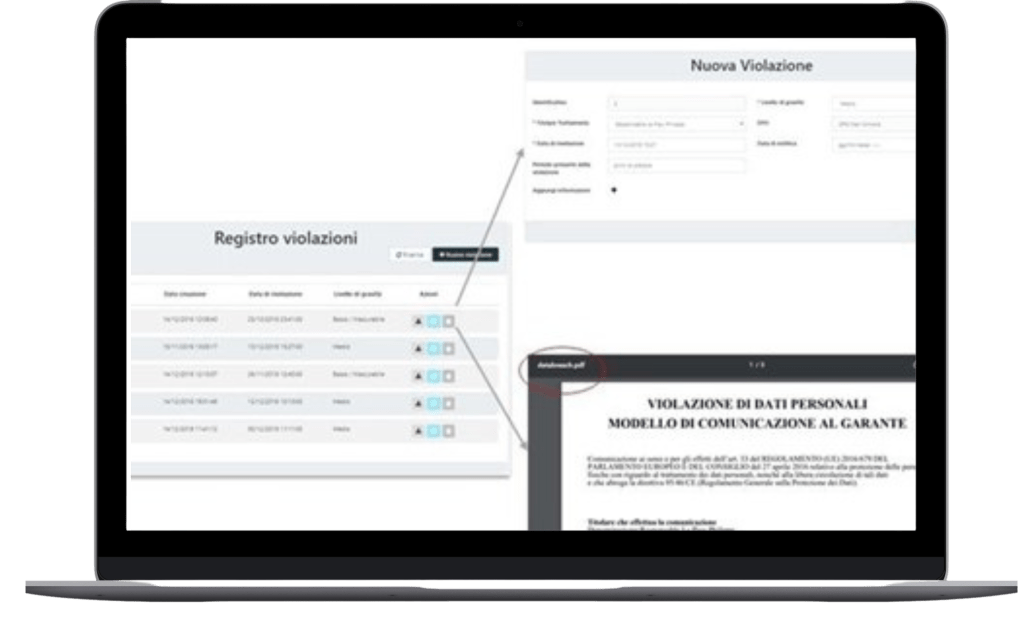 Manage personal data violations
An additional beneficial feature available on our platform is the pre-populated Data Breach communication template, in compliance with recommendations from the Supervisory authority (e.g., Italian Garante per la Protezione dei Dati Personali).
This extended module supports the impact assessment's evaluation for data subjects, leveraging the automated mapping between the data breached and the related assets (e.g., File Shares, Storage Area Networks).
Are you interested?
Fill in the form and you'll be contacted by our experts!